This shop has been compensated by Collective Bias, Inc. and its advertiser. All opinions are mine alone. #MerrySpritzmas #CollectiveBias
It is the most magical time of year. If you are one of the brave ones that have offered to have a house party you might be overwhelmed with the preparation at this already crazy busy time. You most likely have thought of all the main things that most parties entail such as the food being served, the drink menu, decorations, playlist, kids activities if they will be there. But what a lot don't think of is bathroom prep. This is the one room in the house that you can almost guarantee everyone will visit at least once through the night so being stocked up and prepared will make your guests feel right at home.
My home is a two-story home with one bathroom downstairs so the foyer, outside the bathroom is typically pretty crowded. With the other ones being upstairs, people typically prefer to wait. I always try to make sure my downstairs bathroom is clean and has all the essentials. So I have compiled a few tips to make sure your guests don't say ewww when they walk into your loo.
It is always better to be over prepared than under prepared when it comes to stocking the essentials in a restroom. Nothing cries party foul like an unstocked bathroom.
Hover over the image BELOW to start shopping for your bathroom essentials.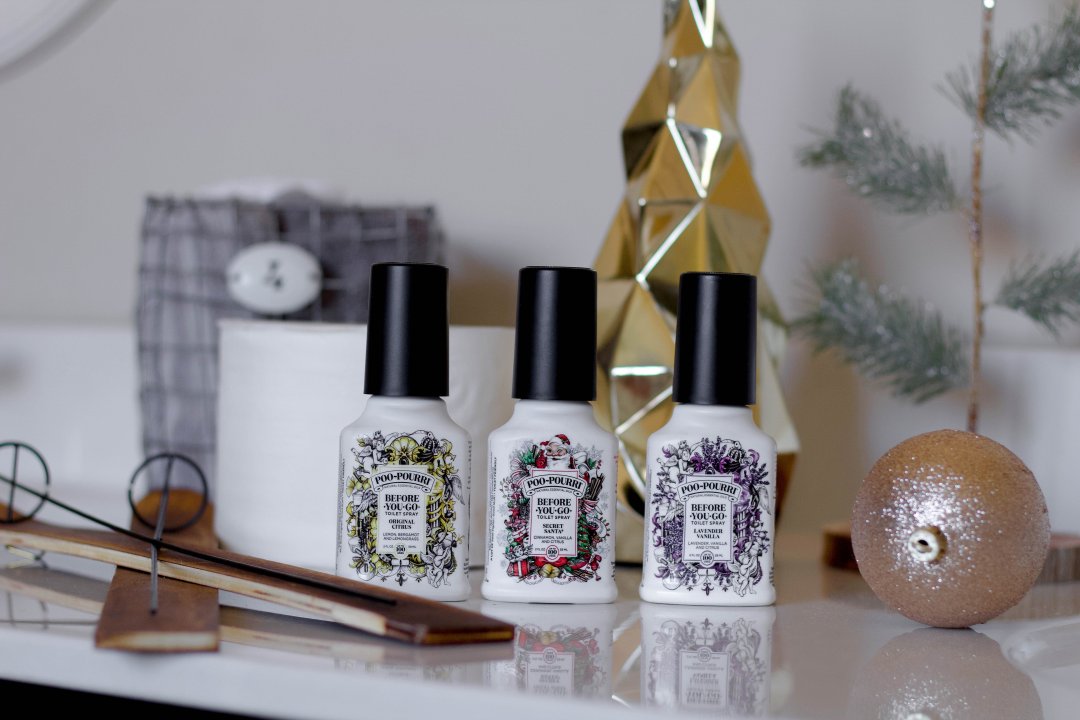 Bathroom Essential #1 Toilet Paper
Literally it's better to run out of beer than it is to run out of toilet paper. Avoid this crappy situation at all costs. I also tend to not make my guest search in closests or under sinks for extra and instead leave it in a bowl on the tank or in holder next to toilet.  I also throw in some flushable wipes. These arent used by everyone, but people that use them love them.
Bathroom Essential #2 Odor Eliminators
You can spend a full day cleaning that bathroom but if there is an odor (even in a spotless room) it will appear to all your guests that the bathroon is dirty. Not to mention isn't it more fun to gossip about friends you have in common or coworkers than everyone whispering about who did #2 in the loo. Thankfully Poo~Pourri, the "Before-You-Go® Toilet Spray" has that under control and actually stops the bathroom odor, naturally, before it begins.  So you can own that throne knowing your crush outside the door won't be any the wiser. 
So this stuff is seriously magical. When you feel a number 2 coming on all you have to do is spritze into the toilet bowl BEFORE yougo, Poo~Pourri's pure blend of NATURAL ESSENTIAL OILS creates a film on the surface of the water trapping the smell below the surface. And all you smell is Essential Oils in the blend.  Pretty fabulous, rght? It really is that easy.
Naturally I stocked up on the Christmas blends this season but Secret Santa  is definately my favorite with its blend of cinnamon, vanilla and citrus natural essential oils a barrier is created on the surface of the water trapping those smells down below. It's a Spritzmas miracle!
Bathroom Essential #3 Soaps and Sanitizers
This is one of those things engrained in our brain as small children so it should be easy to remember. But a few differences, I do like to keep paper handtowels and sanitizer as options outside of a normal towel and soap. I have a few peciluar friends that don't like using the towels so this offer an alternative so their OCD doesnt kick in. I also leave lotion laying around for people to use since winter weather dryiness does a doozy on a fresh mani.
Bathroom Essential #4 Breath Mints/Gum
I love serving good food. I dont love smelling good food when we gossip. I keep these in bowls around the house. There is no excuse for bad breath.
Bathroom Essential #5 Tampons
Clearly obvious, most womens periods don't come unless they are in a really awkward situation. IE beach, yoga class in white pants, Christmas party dressed as Olaf. It happens, I want to be prepared.
Bathroom Essential #6 Aspirin
I expect all party go-ers to wake up with a headache, but no one is allowed to get one during the party. I leave several choices (in child proof jars) for party go-ers to use.
Bathroom Essential #7 Stain Remover
Since I live with food and wine dribbled down the front of my shirt I make sure to keep this stuff close. It will prevent that new winter white top you were wanting to return after this party from being stained.
Bathroom Essential #8 Unmentionables
A plunger and scrub brush should be in the bathroom but should be out of sight. No one needs to know you have these but when someone needs one, they will be forever greatful.
That should cover just about every crappy situation which will allow you as a host to not have to run around the house fetching things.
You can shop Poo~Pourri right online to purchase your essentials not to mention fun gifts everyone will appreciate.
Don't forget to use MOGULS for 20% off and FREE ship if over $19.95.
Head over HERE to see some other campaign created images.
Check out some other really cool images created during this campaign HERE